---
How to Hack Someone's phone?
Before you can start using our software, you would need a Premium account. To do that, visit our pricing page and choose one of our affordable plan that suits your need.
After choosing one, proceed to purchase the selected plan, make sure to use an authentic email address because your login credentials and information on your purchase will be sent to your email along with instructions for installation. For installation, you must acquire the target device and carry out a few requirements. Then go to " Settings " and find the " Lock screen and security " tab, enable the " Unknown sources " option. These actions are needed for the phone to allow you to install apps that are not from the Google Play Store. With the pre-setup done, you can now start by downloading the app from our online repository.
Remote Spy Apps Get The Job Done
After downloading the app, follow the steps to install it, enter your license key when asked to activate the app. Enter the license key to complete activating the app. If you do not know your license key, you can always find it inside your account after logging in. You will have the option of choosing to hide the app icon on the device, it is recommended to do so. And the last step is to clear Browser history and Download history to remove all evidence. After successful installation of the app, you can now access and monitor all data anytime from your NEXSPY account dashboard.
Spyera Login
You can access it through this website my. After successful login, you will arrive at the main dashboard which is the overview of all data collected from your target device. Want to know how to hack someone's iPhone, yes? Then read on to find out how. Usually, most people hack cell phones to find out what the target persons do on their device. However, unlike other devices, hacking an iPhone is a tad more difficult. But nothing is impossible, with the help of a hacking app, you will be able to keep an eye on your target device by recording call logs, reading messages, taking screenshots, viewing photos, and tracking real-time location, etc.
Nowadays, there are many apps for hacking iPhone are accessible on the market, and so choosing the right one can be very challenging. If you want to know what your kids or employees are doing, then try any of the apps below. Aside from iPhone, this app can also be used for hacking Android phones and tablets, as well as computers. Spyzie is a spy app that is capable of hacking iPhone, especially if you could not have the device in your hand physically. In addition to that, this app can retrieve data by keeping the track records of the hacked device. This app is compatible with tablets, computers, as well as smartphones.
With Highster Mobile you will be able to send and receive messages remotely. To use this for hacking, you need to create an account and download the app first to install it on your target device. Spyera is another great app that lets you spy on various social media channels such as Yahoo Messenger, Snapchat, and Line, read text messages and listen to calls remotely. It can be also utilized for hacking passwords and tracking the owner of the iPhone.
This versatile iPhone hack app offers amazing flexibility. With MobiStealth, you will be able to monitor calls as well as a message on the target device.
How To Spy On Your Spouse With Your Computer
This app is perfect to use for hacking iPhone remotely. This app is available in different options: 90 days, days, and days.
So if you are looking forward to use this app make sure to compare each option to find out the best one that suits your needs. For parents who want to keep an eye on the activities of their kids, using TeenSafe is a brilliant idea. With this app, you will be able to monitor all messages of different social media platforms. All the above-mentioned apps are great options. Android operating systems have always been attractive for hackers looking to steal valuable information. By using this Cloak and Dagger technique, hackers can take over control of a mobile device silently and without the owner noticing anything unusual.
As soon as the hacker hack an Android phone , he can steal sensitive data such as PIN code of the device, all passwords used online, phone contacts, OTP passcode, chats, keystrokes, and messages. Today, wireless sniffers are used in many IT situations because of their efficiency.
Frequently Asked Questions. These usually involve using the software for a trial period. May 15, , Editor, 7 Comments. The best feature for me is definitely the GPS. SpyBubble's web access is password protected so only you can view activity logs. I think you'd better serve your site and the question of the ethics if you accompany each suggested spying tool with a section on how to remove it or detect it.
Besides intercepting data, they can also monitor and decode all kinds of data. Although wireless sniffers are very useful for good maintenance of wireless networks and for identifying different problems, some people used them for malicious acts such as hack someone's phone without touching it. With the help of wireless sniffers, you can filter network traffic, discover network vulnerabilities, malware, and misuse, and they are also helpful for identifying different problems with configuration.
track iphone text messages.
trace incoming calls from skype to cell phone!
What the mSpy software is?!
how to receive your boyfriends text messages.
How to Hack Mobile Phones with Computer in 3 Minutes?
Truth is that today, you do not have to employ a group of skilled hackers to learn how to hack someones cell phone with just their number. You can do that all by yourself with the proper tools available at your disposal. When it comes to SS7 vulnerability, you should know that SS7 is a calling protocol that connects two networks together. This technology was designed in the 70s of the past century and has become vulnerable over the years. New-age tech is pretty potent nowadays, but the ways to get around that grew as well.
Most of the means here are pretty much simple scripts anyone could get their hands on. There are a lot of problems with online usage, extending to website scams, skimming transactions, and catastrophic inter-company information leaks. Here are a few ways they get around doing just that, along with how they work. Hopefully, for prevention.
Spy Android Cell Phone From Computer. Its a scary thought, so lets spy android cell phone from computer monitor wife sms using ios for free figure out how you. -Added Ability to spy on a android phone from a computer password phone Spy on cell phone without installing software on target phoneEven so, the law may.
The first phone functions as a GSM modem allowing internet access on the target unit while the other receives the relayed information. You could guard against this by powering off your phone at night. This disables encryption, and users are subject to a lot of scary consequences — up to total data wipes. Fortunately, this type of hacking is related to units with SMS capability, limiting its channels to only smartphones and text messages. The kind of security available determines the potential of this attack, ranging from total system compromises to simple intrusion warnings projected.
These work by spoofing a working cell tower and intercepting the data that follows.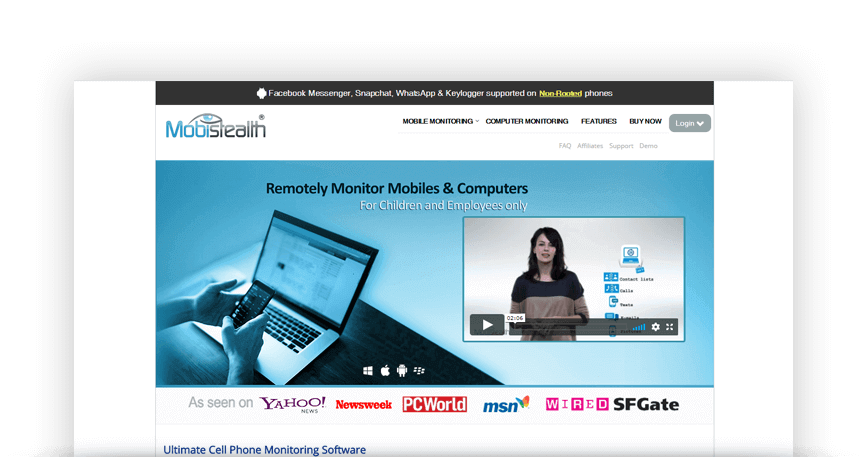 This works really well for them because phones always identify themselves by their IMSI number when connecting with cell towers and cell towers are prioritized by devices based on signal strength. This provides hackers with not only data transcripts texts and calls but geo-synced location information for every connecting web-based piece of technology.
These devices can be in fixed locations or roam around a vicinity commonly via either vehicles or drones. This was very common in law enforcement procedures, solving a number of unresolved cases at its peak. Unfortunately, people figured out countermeasures. Even worse, this tech has been expanding into mainstream life over time, with companies such as Stingray emerging from the sheer demand. Worried about what your kids are up to on the internet? You could install a spy app on their smartphones.
These apps let you monitor their social media, read their text messages, track their location, and even record their calls. All recorded data is stored online, so you can access it from anywhere.